To Be a Hamster: Hamster Professions, Types & Gifts
"They only _act_ dumb!"--anonymous Human
A character is created by choosing some stats, one profession, one hamster type, and one individual gift. Stats all default to Poor. The player has six levels with which to build up his/her stats (as per FUDGE core rules).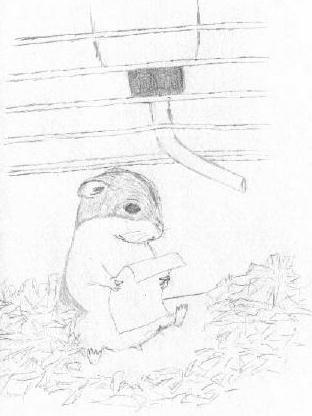 Professions
Teddy Bear (Longhaired Syrian)--Gift: +1 Appearance skills
Dwarf Hamster--Gift: -1 scale (+1 DEX, +1 AGL, -1 STA, harder to hit)
Regular Syrian (includes Golden Hamster)--Gift: +1 PSI
European Hamster--Gift: +2 scale (+2 STR, +2 mass, easier to hit)
Black Bear Hamster (Black Syrian)--Gift: +1 STA
Unique Coloration: +1 Appearance skills
Specialization (1-3): +1d if per level (+ only)
Special Equipment:

Maps of uncharted region
Psi lens crystal (amplifies Psi ability) (+1)

Riding Animal:

Lizard (Guana)
Giant beetle (strong; for pulling wagons)
Spider

Special: GM-approved, player-suggested
Status: Improved relations with other hamsters
Hibernation
Attack Animal:

Tiger beetle
War wasp
Hunting spider
Having trouble thinking of a name for your character? Try the Hamster Name Generator.